Our community has supported our growing business from the first day we opened. The staff at Celtic Creatures feel that it is important to give back to the community. Here are some of our community projects:
Celebrating 10 Years

In May of 2018 Celtic Creatures celebrated our 10 year anniversary! To thank our clients for their support and trusting us with their furry family we held an open house. The day included guided tours, cupcakes, tea/coffee/water and a photo booth! Despite not having the best weather we had a great turn out of support and we look forward to continuing to work with our community to provide the gold standard of veterinary care.
100 Women Who Care

100 Women Who Care CBRM was formed in February 2014. The goal is to bring together 100 (or more) local women to raise awareness of and contribute to non-profit and charitable organizations located in the Cape Breton Regional Municipality (CBRM).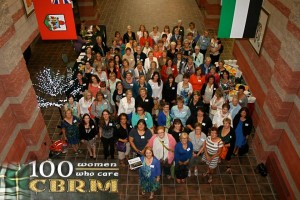 Dr. Korven has been our representative for Celtic Creatures with this charity. Four times a year she attends the local meetings hosted. During these meetings the members vote on a local charity or non-profit organization from three randomly chosen, which were nominated ahead of time by members. The evening consists of a meal, presentations from the three nominees, and a vote. Each member writes a cheque for $100.00 and the charity chosen leaves with a cheque for a minimum of $10,000.00!!!! This is an excellent way to help organizations in need within our community!
Student Volunteer and Co-op Work Experience Programs
Volunteer work-experience is a requirement for students applying to veterinary medicine and veterinary technician schools. Our clinic has hosted many student volunteers since opening and some have gone on to work for us. Our volunteers learn how the clinic is run and maintained and get to see first-hand what happens behind the scenes. Their duties include cleaning, helping out in the dog park, making educational kits for clients, washing surgical instruments, wrapping surgery packs and supplies for autoclaving, and assisting technicians and veterinarians with patient care. Whenever possible, we take the time to educate our volunteers about interesting cases, show them x-rays and samples under the microscope. They also have the opportunity to watch surgery, as shown in the photo below.
Anyone interested in volunteering are asked to submit a resume.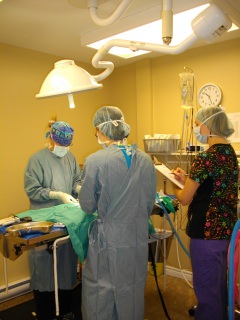 The Celtic Dog Park
Celtic Creatures Vet Clinic is dedicated to promoting responsible pet ownership and has developed Sydney's first off-leash dog park next to our clinic. The dog park provides a fully fenced area where local dogs and their owners can run, play and socialize. Annual registration, waivers and dog memberships are required. Visit our Dog Park page for more information.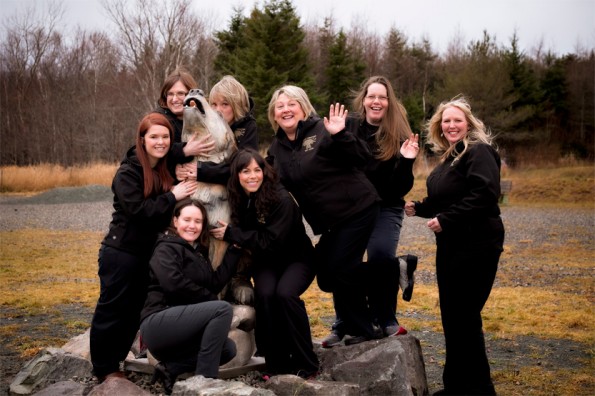 Career Fairs
Since 2008 Celtic Creatures has participated in four high school career fairs. Our most recent one was in December 2014 at Riverview High School. Dr. Korven and Bonnie represented the clinic. They spoke with several students in grades 10, 11 and 12. They educated them about the veterinarian profession, what it entails, what courses are needed to apply, as well as some educational materials on ticks, joints, spay/neuters and dental disease.
Clifford Street Youth Center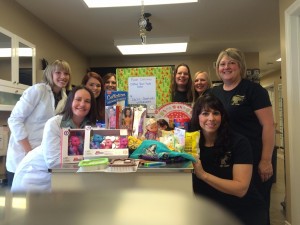 In December 2014, we decided to get together as a clinic and give back to our community during the Christmas season. We chose a local charity, and each of us made a cash donation. We chose The Clifford Street Youth Centre in North Sydney, NS. This youth centre was established to provide an after school drop in centre in a low income area where over 640 youth reside. The Clifford Street Youth Centre provides homework help, community philanthropy, recreational activities, and inter-generational hobbies for the local youth.
After speaking with a local police officer who helps run the centre, we were given a list of items that the kids were in need of. Dr. McNeill volunteered her time to go shopping for the kids and we were able to give them multiple toys, crafts, snacks and clothing.
We truly enjoyed being able to help some of our local youth especially at Christmas time. We received a beautiful handmade card from the kids afterwards thanking us for our donation.
Feral Cat Action Day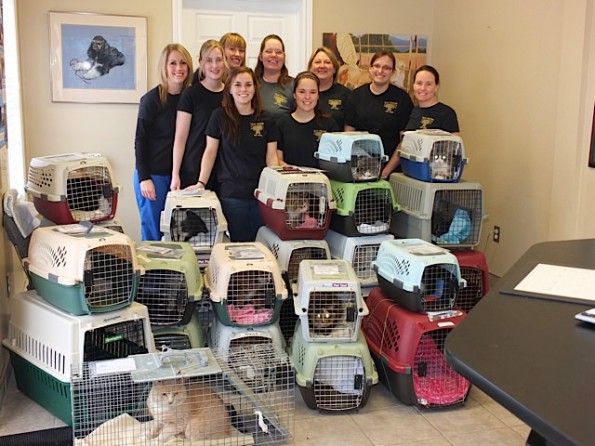 In February 2014 Celtic Creatures hosted "Feral Cat Action Day" to assist our clients who had feral cats in their neighborhoods and to help control the growing feral cat population.
Our staff volunteered their time on a Sunday.  We had several sales representatives donate drugs to the event and the remainder of the costs were covered by Celtic Creatures Clinic.
This was our fourth time hosting this event since 2010 and it was a huge success.  We were able to spay and neuter, test for FeLV and FIV, vaccinate and treat for parasites on a total of 29 feral cats from our community and assist our clients with no charge.
Open House Education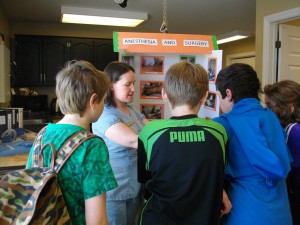 Our clinic will host an  "Open House" during which we provide interactive school tours with the purpose of exposing youth to science, technology and veterinary medicine. The staff has developed fun and interactive displays for the students involving parasitology, surgery, dentistry and radiology. Students can practice doing a dog spay on an anatomically correct stuffed dog, touch bladder stones, look at ear mites under a microscope and see real ticks and worms.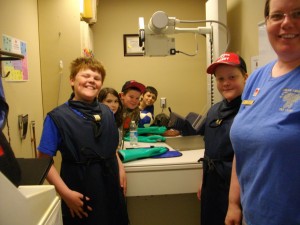 In May 2015 Celtic Creatures hosted their second open house for local elementary schools.  We contacted several schools to offer our facility for an educational morning field trip.  Two schools accepted our invitation.  We hosted the Mira Road Elementary School, grades 4 and 5 as well as the Harborview Montessori, ages 5-14.
We set up 5 stations across the clinic: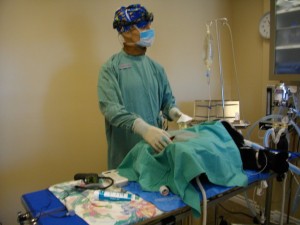 Lab/Parasitology:  Here we showed them different samples, on and off the microscope.
Surgery:  Where we showed them our surgery suite, equipment and their functions.  We also let them test out our Doppler machine.
Radiology:  Here we went over the safety rules and procedures when taking a radiograph as well as how to prepare your equipment to take the proper picture.
Dental:  At this station they got to take a good look at our dental machine.  We taught them about the importance of dental care and dental foods.
Tour:  Our last station took them on a tour around the remainder of the clinic, this included our cat, dog and isolation wards.
At the end of the five stations they had a chance to play outside in our dog park and we treated them to some freezies!
Nail Trim Day & Walk for Guide Dogs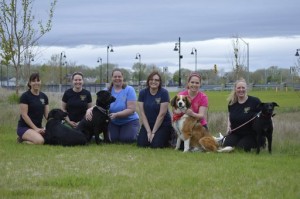 In May of 2015, the clinic decided to take part in the Purina Walk for Guide Dogs. This is a national fundraising walk held in more than 200 communities across Canada. It raises funds to help train Guide Dogs for Canadians with visual, hearing, medical or physical disabilities. This was the first year that city of Sydney participated in the walk. With help and volunteers from the local Lions club they organized the event.
As a clinic, to raise money for the event, we had a nail trim day. We advertized our nail trims at a discounted price of $10.00/pet and all funds raised went straight to the walk. Celtic Creatures raised a total of $461.00 towards the walk.
Cape Breton SPCA Castration Day
In October 2014, our local SPCA Branch was in need of some assistance. We had recently become their veterinarian, short term, until they completed the process of planning and building a spay and neuter clinic. This month in particular they had a large amount of male cats at the shelter and did not have the time nor did they have the funds to have them neutered during regular hours at the clinic. Dr. McNeill, one of our technicians Monique and Dawn, a technician from the SPCA decided to get together and planned a neuter day on a Saturday afternoon. We volunteered our time and our facility. We were able to neuter 16 male cats in total. The SPCA was very grateful and we were able to make a small step forward in controlling the over population of cats in our community.