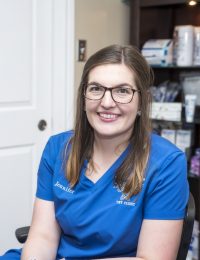 R.V.T
Jennifer was born in North Sydney, NS and was raised in Whycocomagh, NS and Port Hawkesbury, NS. After completing high school, Jennifer completed her first year of a B.Sc., at Cape Breton University before deciding to attend Dalhousie University Agricultural Campus for the Veterinary Technology program. She graduated in May 2018. She has passed her qualifying exam and has received her accreditation to be a Registered Veterinary Technician.
Jennifer is no stranger to the Celtic Creatures team. In 2016 she was a student volunteer. She loved her experience so much, she decided to do her summer placement (for technician school) with us during the summer of 2017. We enjoyed our time with Jennifer so much that we offered her a job after she completed her schooling. Jennifer is always eager to learn, but especially loves patient care, anesthesia and dentistry.
In her spare time you will find Jennifer in the barn, or at a horse show. She also enjoys crafts, as well as helping her boyfriend Michael out around the family farm. Jennifer has a young golden retriever named Angel.