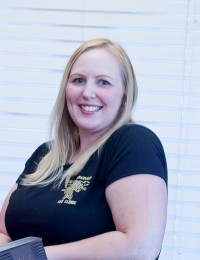 Born and raised in North Sydney, Kelli currently lives in Sydney with her daughter Bethany. Kelli worked in the pharmaceutical industry for 12 years before making a shift into the veterinarian world. She has over 5 years experience working reception in a local vet clinic.
Kelli has a soft spot for cats, you will find her quite often giving our feline patients some extra love and snuggles. She has been a great addition to the Celtic Creatures team since September 2014 with her very detail oriented personality. She likes to have things in order and well organized.
Besides her love of animals, she truly enjoys the medical side of her job and learning new things daily. She has fostered many litters of cats and kittens over the last few years and enjoyed caring for each and every one of them.
In her spare time you may find Kelli with her daughter in the horse arenas, reading, hiking, taking in local music or just simply enjoying the beautiful nature that Cape Breton has to offer.
Kelli has 3 pets, her dog Lucy and her two cats Jasper, Tala.