Celtic Creatures Veterinary Clinic is a full-service veterinary hospital, located in Sydney, Nova Scotia.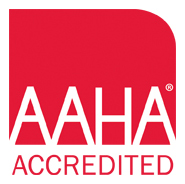 The professional and caring staff at Celtic Creatures strive to provide the best veterinary medical, surgical and dental care possible. The clinic has demonstrated its committment to high standards of care by achieving accreditation by the American Animal Hospital Association (AAHA) in 2010, 2014, 2017 and 2022. Celtic Creatures is currently the only clinic in Cape Breton with AAHA accreditation.
The clinic is located at 383 Keltic Drive in Coxheath. Set off the road, there is plenty of space for parking. We also own and operate The Celtic Dog Park, an off-leash park for dogs.
AAHA Accedited since 2010!
What does this mean for you and your pet?
Accreditation through the American Animal Hospital Association (AAHA) ensures that a veterinary practice is operating at the highest standards of excellence in pet care. Veterinarians and pet owners know pets at AAHA-accredited practices receive the highest quality care from well-trained, professional veterinary teams.  Click for more info!