Our Staff is now Fear Free Certified!!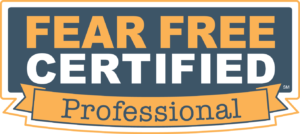 During the winter of 2018/2019, the 11 full time staff members of Celtic Creatures Vet Clinic received Fear Free Certification training! This involved training on modifying our procedures, handling, and facilities to help pets feel safe and comfortable while receiving the medical care they need.
About Fear Free
Developed by "America's Veterinarian," Dr. Marty Becker, the Fear FreeSM initiative aims to "take the 'pet' out of 'petrified'" and get pets back for veterinary visits by promoting considerate approach and gentle control techniques used in calming environments. Utilization of Fear Free methods and protocols leads to reduction or removal of anxiety triggers, which creates an experience that is rewarding and safer for all involved including pets, their owners, and veterinary health care teams. To become certified, veterinarians and veterinary staff are required to complete a comprehensive, 8-part educational course and exam.
Learn more at www.fearfreepets.com.
Want information specific for the felines in your life? Check out our Feline Info page for some great links on feline behaviour!